Frequently Asked Questions
Our goal is the craft outstanding skis, using our hands and few nifty tools, with safe, sustainable materials, in a safe sustainable environment. Silo Skis is a small operation, indeed, started by a guy in a small shop in Northern Vermont. When you call "us," you usually will in truth be speaking with the guy who designs, builds, shapes, and tunes your skis. He owns this outfit and his name is Lars.

Custom skis are built just for you. To build the best skis possible, we'll ask you about yourself and what you would like from your skis. We tweak everything to fit your skiing style and the hills you ride.


What are our skis made of?

We use 98% US. made materials. Our skis are built with the same materials used in most ski manufacturing. We use a 4001 sintered base material and then utilize high quality metal edges for the base. We want your skis to last and be able to take a beating. On top of the edges we use a VDS foil to help reduce vibrations. We then utilize different combinations of fiberglass, carbon fibers, and kavas for the base glass. These are adjusted according to skier weight, ability, preference, pack weight and terrain. When then use a 9 ply Red Oak/Birch wood core. This is light, lively, and very durable. Then more layers of fiberglass, carbon fiber, and kavas. These are also adjustable according to skier weight, ability, preference, pack weight and terrain. Then our basic ski has no topsheet or graphics(other than our logo). Our resin has UV inhibitors, so a topsheet is not required. We do have topsheet material and can add it to the skis for a little better durability. We offer a ton of graphics options so be sure to check out our graphics page too.


Can I help build my own skis?

Our customers are our first priority and if you want a hand in building your skis we would love to share the experience with you. The spaces are limited and cost is $850.00USD. It takes roughly two days to build the skis to take home. This is very unique opportunity to be involved from the beginning to the end of a very cool project. You will be able to tell everyone that you helped to build the skis you are on! You will have to provide your own transportation to and from Burlington and make accommodations while you are here. If you are local to the area, we can also work out a weekly workshop time. Contact us and we will see what we can do!

Your graphics have to be finished and here before we are able to build your skis. There is some prep work that has to be done before hand in order to finish the skis while you are here.


How long does it take to build a pair of skis?

Once your order is placed and you have your deposit in your order will be put into a queue. We build small batches of skis each month and according to where you are in the queue your skis will be built during that month. Skis will be ready to ship at the end of the month they are built. Most skis are ready to ship in six weeks. Usually the hardest part of making it all come together is the graphics. Have those nailed and you will be doing well.


How much do they cost?

The base price of skis starts at $750.00USD. You can expect the average cost of the skis to be around $640.00USD. Graphics, carbon fiber, size, etc all affect the price of the skis. All in all they are very reasonably priced custom skis.


What is rocker or early rise?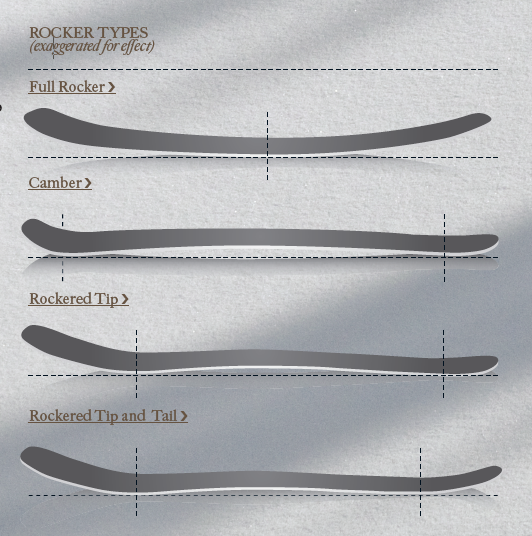 Do you have demo skis?

We are working on having demo skis available. We are very small operation and don't have the budget to build enough skis to be able to do this yet. Besides they are custom and they are built for you. These are designed by you and are uniquely yours. We try very hard to build the best skis and are confident that we can build you what you want.